Sponsored Link
Noah
Autumn is getting closer, and speaking of autumn…
May
It's chestnut, isn't it!?
Noah
Right!! You see many types of sweets made from chestnuts, and the popular one is…
Mont Blanc is a very popular chestnut cake in Japan, but maybe not so popular in some countries.
Mont Blanc is originally a French word, meaning a mountain, because it looks like a mountain covered by snow.
Japanese people like Mont Blanc, so you can see it everywhere, not only at cake shops, but also at grocery stores or convenience stores.
And the most popular Mont Blanc café in Tokyo is "Mont Blanc Style", which is in Yoyogi (near from Shinjuku).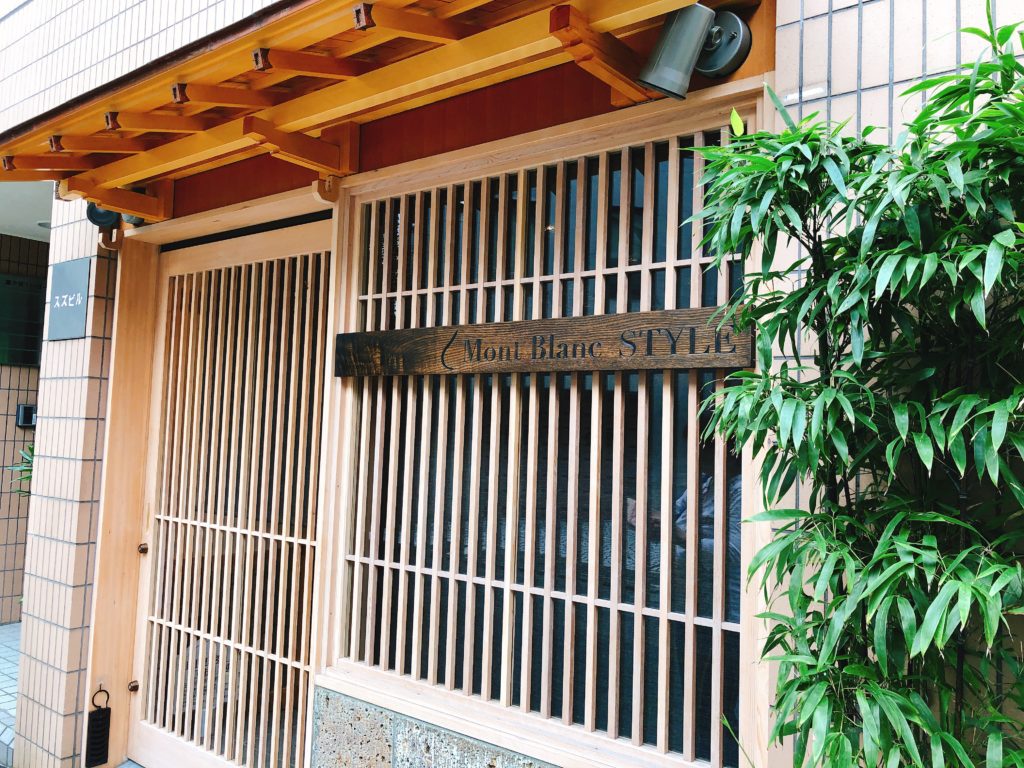 It opens at noon, but people make lines from 8am to have Mont Blanc there.
May
I went to the café on a weekday, but still there are many people. We arrived at 8:30am but there were already some people waiting for tickets.
Noah
Tickets? You need tickets to have Mont Blanc there?
May
Yes, and they are gone very quickly every day. On that day, the café started distributing tickets around 10:30am but all tickets were gone in 30 minutes or so. Luckily we got tickets, but if you want to eat there, you should arrive at the café around 9am at the latest.
The time is written on the ticket, so you should go back to the café on that time. The café opens at noon, and closes at 7pm, and it serves only 90 plates every day. The cafe is very small and there are only 8 seats.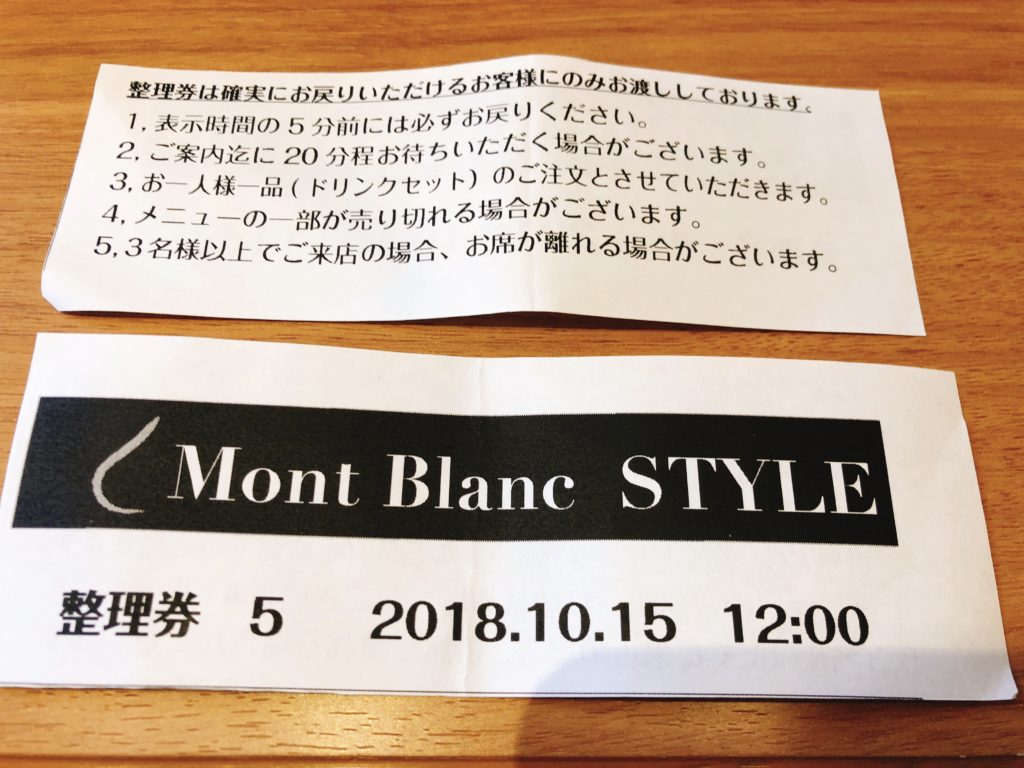 The note on ticket says:
Please come back to the cafe 5 minutes before the time on ticket.
We may have to ask you to wait for 20 minutes after you come back.
We only serve one plate for one customer.
Either one of plates might be sold out.
We may have to ask you to take a seat separately if you are party of three or more.
Noah
But what is so special about "Mont Blanc Style"? Did you find anything when you went there?
May
The biggest point is that the patissier makes it in front of customers, and they serve Mont Blanc right after they make it.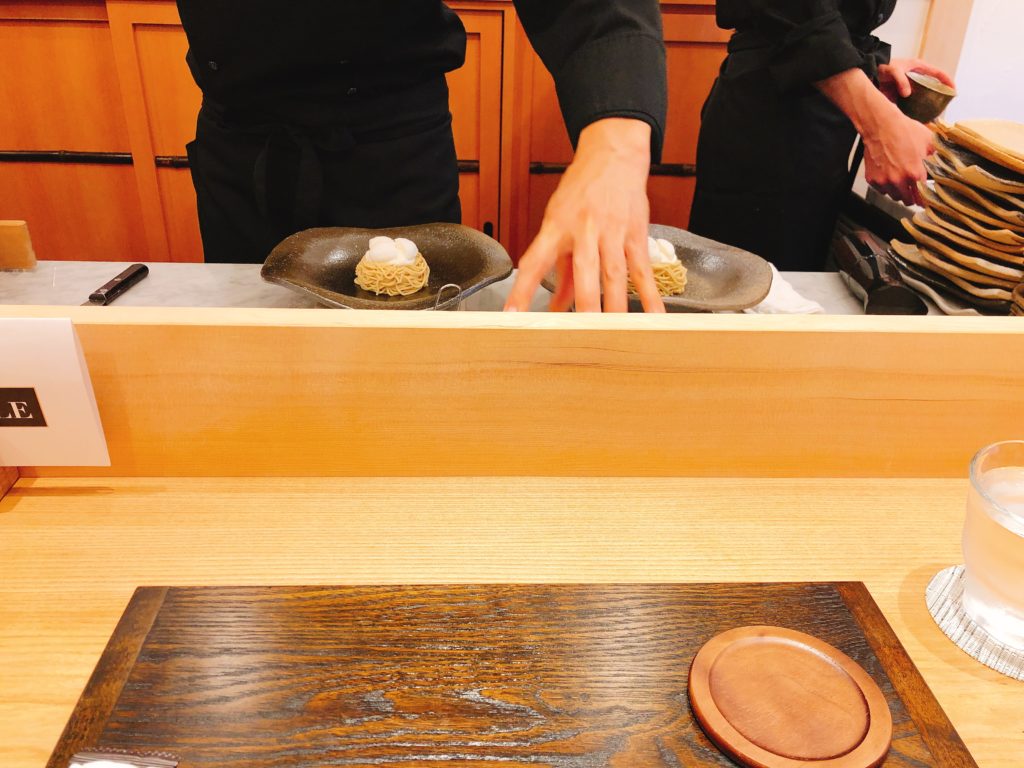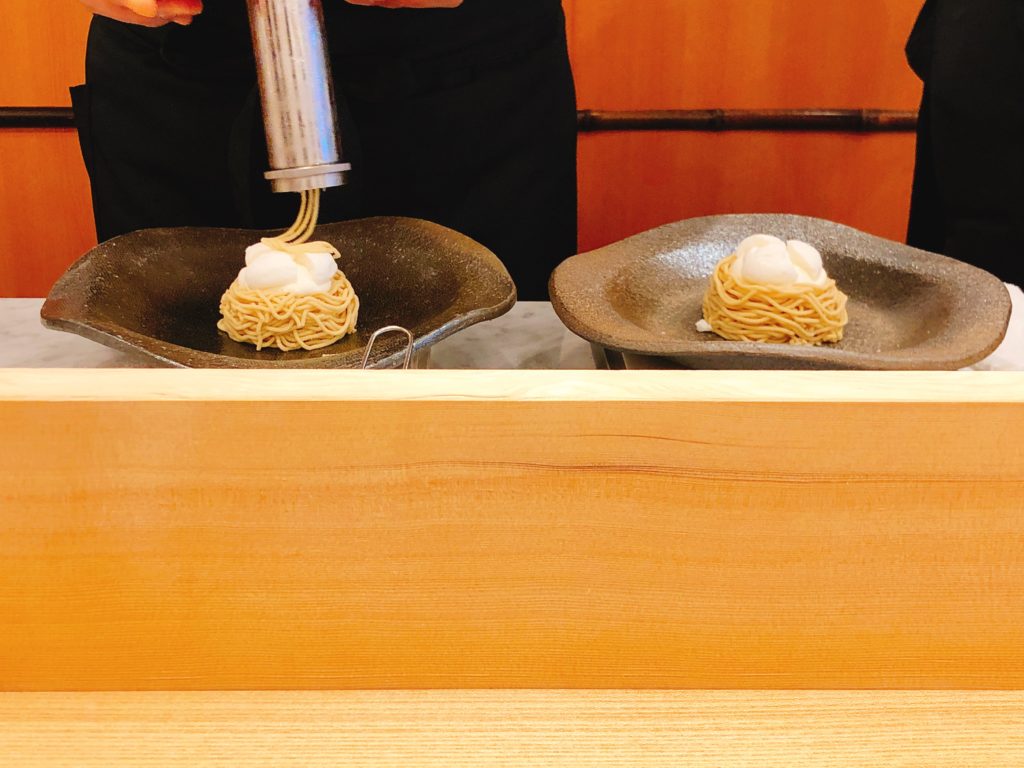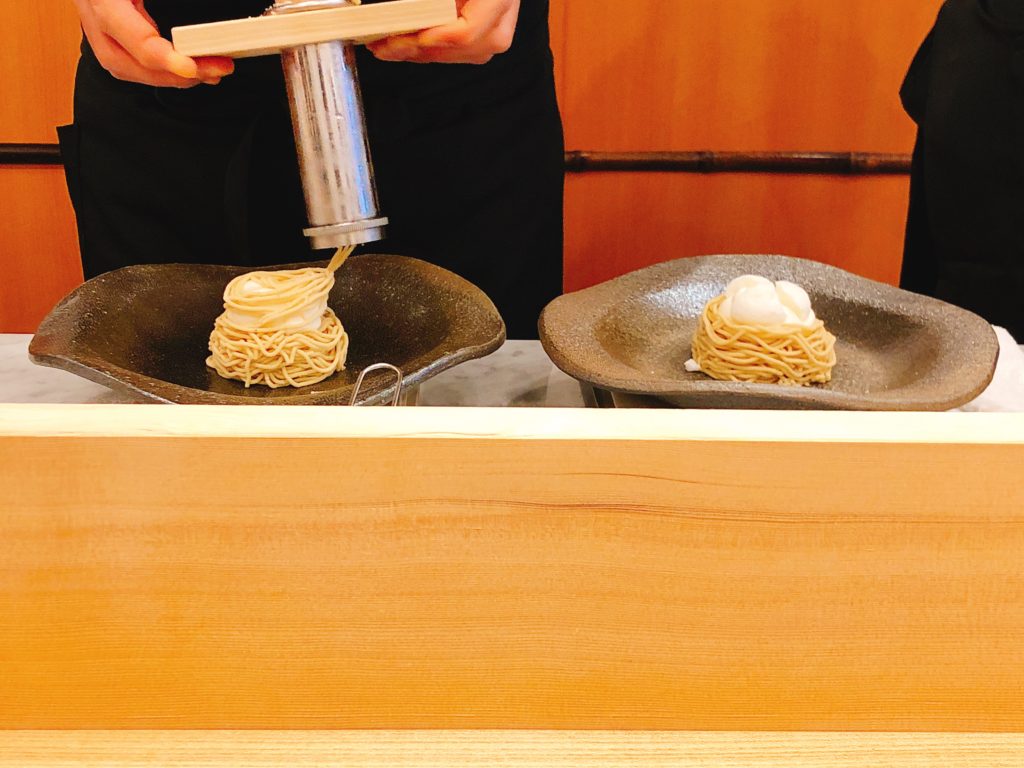 The style is very similar to Sushi counter.
Noah
I see. It is said that Mont Blanc has very sensitive flavor and taste of chestnuts, so that must be very different from other Mont Blanc.
May
It really was. You can enjoy fresh flavor of chestnuts, so I thought it was the "ultimate" Mont Blanc.
This is the menu of Mont Blanc Style.
There are only two menu, Mont Blanc cake or Mont Blanc parfait.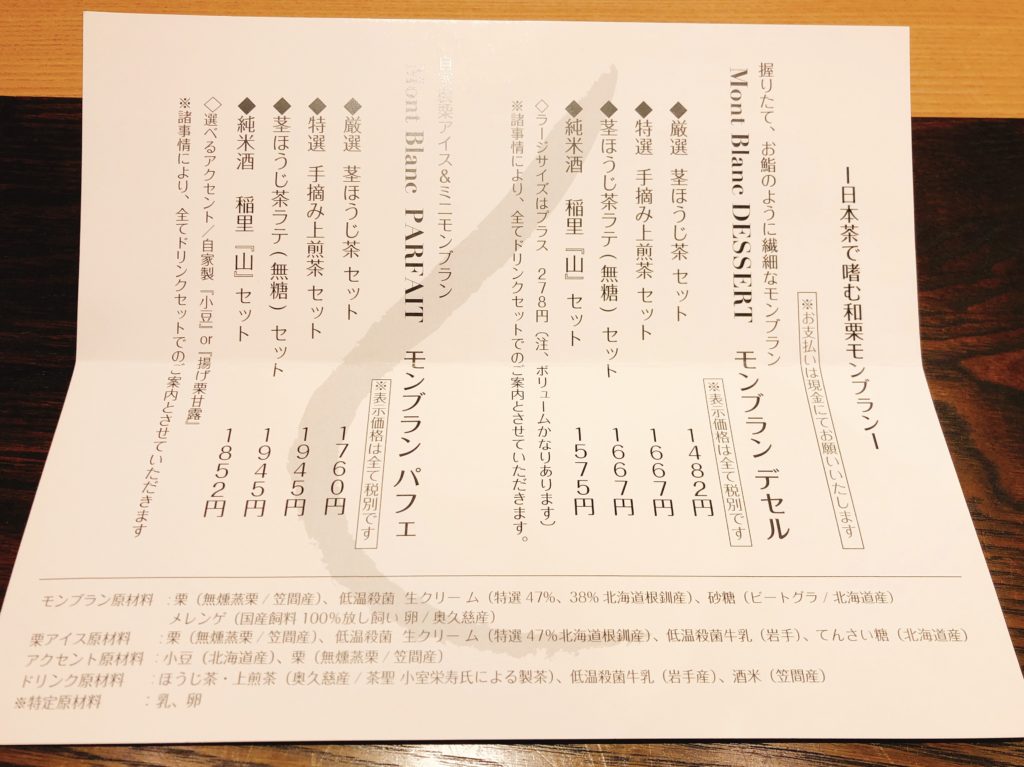 May
I had cake this time, but parfait also looked so delicious…
May
Yes, we had roasted tea together. Mont Blanc Style recommends to have tea, not coffee, because coffee has too strong flavor.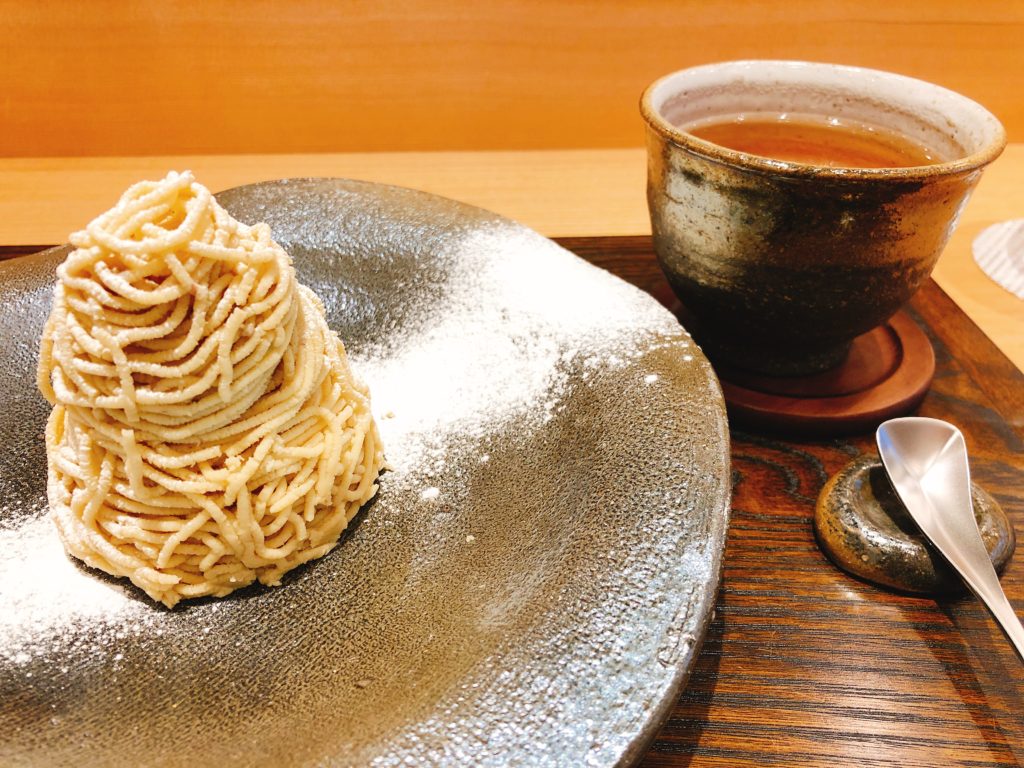 Noah
OMG, it does look sooooo delicious!!!!
May
Also, it looks like a mountain, right?
You can only pay by cash. The cafe doesn't accept credit card or other payment method.
Mont Blanc is less sweet than I expected, but I can feel flavor of chestnuts.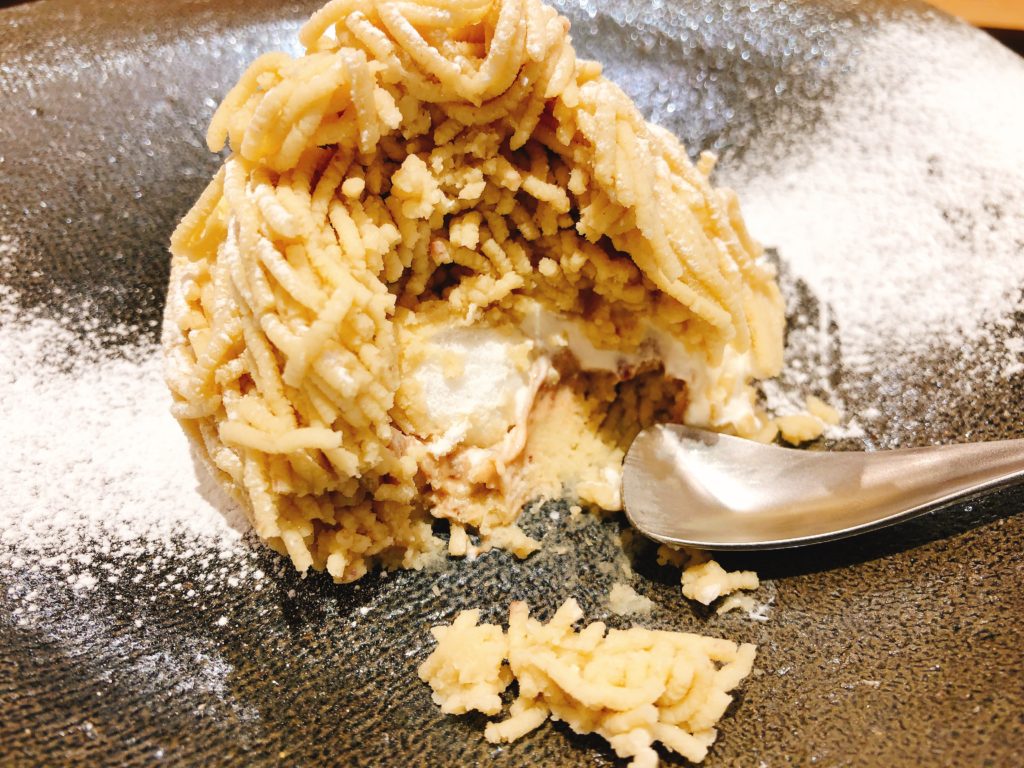 The pastry chef was on the famous TV a couple of month ago. He loves and knows a lot about chestnuts. He makes Mont Blanc in front of you. The plate is wonderful, but his service is also very gentle and perfect.